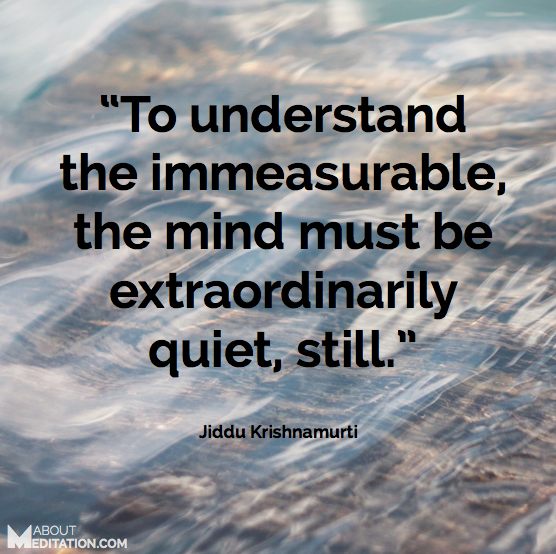 3 Hour Meditation Music | Yoga Music | New Age Music | Relaxing music; spa music; Tranquil Music ॐ3
Why do you want to meditate? Do you really know?

If you want to get results, it's important to understand why you're actually meditating to begin with.

People come to meditation for lots of reasons. I think most of those reasons are wholesome and valid. But understanding why you want to meditate can help you in all sorts of ways.

How? Here are just a few ways it can help:
It can help you stay focused.
It can lead you to deeper self-knowledge.
It can help you see that you are making progress.
Finally, it keeps you connected to your intention and keeps you from losing momentum.

Why I Still Meditate After 20 Years
I meditate for a few reasons. First, I love to practice meditation. I meditate to rest in the exquisite silence and stillness I find there. I meditate because I love the direct communion with life I experience. I love the pure contact I make with reality.
And I meditate to remind myself that I am living in the middle of an experience I will never fully understand. It lights up my mind and my heart and everything in my life is buoyed as a result.
About Morgan Dix 

OM036: Meditation And The Art Of Doing Nothing

The Importance Of Doing Nothing
Don't underestimate the value of doing nothing, of just going along, listening to all the things you can't hear, and not bothering. ~Winnie The Pooh
The Sweet Idleness
Many of the wisest voices in our tradition, from Whitman to Thoreau, have talked about the virtue of loafing. The less you struggle with a problem, the more it's likely to solve itself. The less time you spend frantically running around, the more productive you are likely to be. ~Pico Iyer
"The time to relax is when you don't have time for it." ~Sydney J. Harris
How Doing Nothing Helps You Get More Done
Craig Coggle is a musician, meditator, and writer of Meditation for the Modern Mind. You can read more about doing nothing and other awesome tools for skillful living at his blog http://21stcenturymonk.net.

Doing nothing feels like the complete opposite of being productive, but after you've tried it you will see how effective it can be. Why do you think Google adopts a company policy that has an emphasis on allowing their staff so much free time?


A lot of people say that they are too busy to do nothing. Yet those same people will happily invest hours in front of the television, or spend plenty of time fretting and worrying about something without allowing themselves the pleasure to just be.

I've noticed that an hour slumped in front of the TV feels very different than one hour sitting in the park.

Actually, doing nothing can be a great investment into your personal well-being and something worth making time for.

It doesn't take a huge change in your lifestyle—perhaps just a change in your thinking—and once you experience the benefits you will be more likely to make it a regular part of your schedule.

I have two preferred methods for doing nothing, and they can both be of great benefit.

The first way is to forget feeling guilty and to just take the time to zone out. Unplug from the internet for a while, stare out of the window, or just into space, and luxuriate in a special time of doing nothing.

It's important not to try and do stuff while you're doing nothing. No reading of letters, catching up on emails, or even listening to the radio. Try to disconnect for some replenishment of the soul.

Read this From The Tiny Buddah
How Brainwave Entrainment Can Deepen Your Meditation

We are all practitioners. Whether we are just beginning to meditate or getting deeply into our meditation practice, we look for ways in which we can transform conflicts, wounds, stories, and beliefs that limit our capacity to function at our best.

You may be familiar with practices in which the object of meditation is sound itself: perhaps you have become very mindful of the sonic environment you are immersed in, or you've been fortunate enough to attend a sound bath, or have
experienced the power and benefits of brainwave entrainment meditation.

What is brainwave entrainment and what can it do for me?

Brainwave entrainment is generally considered any method by which the brain can be induced into non-ordinary states of consciousness by exposing it to controlled stimuli. Despite its modern sounding name, it dates back to ancient cultures: think bonfires, shamanic drumming, rhythmic prayers.

Nowadays, it's a widely used form of spiritual technology with which to fully relax, access deeper meditative states, heal and optimize our energy reservoir, and bring inner wisdom and insight into our lives.
-By Javi Otero
Javi Otero
is the Chief Technology Officer iAwake Technologies. He introduces new and experimental entrainment protocols developed through his ongoing research on harnessing the power of sound energy. He also offers experiential support with iAwake products, sound technology expertise, and sometimes lends his lyrical hand at writing for iAwake.


Mantra meditation has been practiced in India for thousands of years because people knew that it reduces stress, calms the mind and increases inner peace. In the 1970s medical researchers at Harvard University began studying mantra meditation. They found that during the practice of mantra meditation the body has what they call the relaxation response, which gives the body deep rest that is deeper than the rest from sleep. They also found that through regular meditation that deep rest builds up in the body over time, and it is that deepening reservoir of rest that then results in the many benefits of mantra meditation.

Stress accounts for over 60% of doctor visits. So those researchers designed a form of mantra meditation that elicits the relaxation response and taught that to doctors through Harvard Medical School. Inner Peace Meditation is based in part on that work at Harvard and in part on decades of mantra meditation practice by the staff of InnerPeaceMeditation.org.

The Harvard researchers and others continued to research mantra meditation and today the research on mantra medition is the largest, most comprehensive body of research on any meditation technique. That research indicates that mantra meditation can lower blood pressure, cholesterol and the risk of heart disease and stroke, can help relieve depression, insomnia, anger and aggression, and can increase productivity, learning, happiness and inner peace. And people report having more mindfulness and deeper transcendence from mantra meditation, and that it's easy to learn.


Of the many different meditation techniques being taught today, scientific studies have found that mantra meditation is one of the most highly effective in terms of increasing happiness, well being and health. And of the highly effective meditation techniques, mantra meditation is by far the easiest to learn and practice.

The following instructions are based on decades of mantra meditation practice by our staff and the meditation practice taught by Harvard Medical School to doctors. If you learn to meditate using these instructions and then meditate regularly your life will get better.

~ ~ ~ ~ ~

You learn to meditate by meditating. The silence and stillness you experience in meditation and the increased happiness and diminished stress you experience outside meditation are so attractive and welcomed that you naturally teach yourself how to go deeper into that silence and stillness each time you meditate.

To meditate you sit comfortably and quietly with your eyes closed and effortlessly repeat a word or a short phrase called a mantra. Your mantra can be any word, sound, prayer or short phrase you like that is in your native language.

For example your mantra could be any one of the words: peace, love, one, calm, or gentle. Your mantra can also be from your religious tradition. For example if you are Roman Catholic your mantra could be "Hail Mary Full of Grace", which in Spanish would be "Ave Maria". If you are Protestant your mantra could be "The Lord is my Shepherd" or "Our Father Who art in Heaven".  If you are Jewish your mantra could be "The Lord is my Shepherd" or "Shalom" and if you are Hindu your mantra could be "Om". If you are of Tibetan Buddhist faith your mantra could be "Om Mani Padme Hum" and if you are of Islamic faith your mantra could be "Insha'Allah". Your mantra could also be a simple prayer from your childhood or your family.

To begin meditating sit comfortably and quietly, and close your eyes. Start by relaxing your muscles, first in your feet, calves, and thighs, then by shrugging your shoulders and rolling your head and neck around. Then just sit quietly with your eyes closed for about a minute. During that time thoughts will come and notice that those thoughts come simply and without any effort. Then after a minute or so silently inside start saying your mantra in the same simple, effortless way as thoughts came during that first minute.

Continue saying your mantra in that same simple, effortless way for 20 minutes. As you do, thoughts and distractions will come, and that's fine. When thoughts and distractions do come just go "oh well" and gently return to saying your mantra in the same simple, effortless way as thoughts come.

It's important to not strain to make the mantra come, but rather to let the mantra come in the same simple, effortless way as thoughts come. If you strain to make the mantra come that can create stress that tires you or cause pressure in your head or even a headache.

Meditate every morning and every evening for 20 minutes. It is best to meditate before you eat. When you have finished meditating lay down and rest for 4-5 minutes. It's fine if you fall asleep during meditation, but when you wake up meditate for a couple more minutes and then lay down and rest for a couple more minutes.

Avoid looking for experiences or signs of progress or failure with your meditation because that hinders meditation. Just be confident that after some time you will start to notice the benefits of meditating during your day. You may be happier, feeling more at ease and calmer, and getting along better with others. You may start noticing these benefits soon, or it may take up to six months of meditating regularly before you start to notice these benefits. So just get in the habit of meditating regularly and then stick with it. And be patient with yourself – if you stop meditating for a day or two, just go back and start meditating again.

After you have been meditating regularly for a while you will be eligible for advanced meditation techniques. If you would like us to contact you when those advanced techniques become available for you you need tocontact us now.

Also, we are continually updating this web site with more information about how to practice meditation and increase inner peace. So check back in occasionally.

~ ~ ~ ~ ~

There are side effects to meditating. Immediately after meditating you are generally more vulnerable to suggestions and outside influences. So avoid making decisions or taking on things of importance immediately after meditating.

If you find that sitting quietly is difficult for you for any reason then give up meditating with a mantra and instead consider doing yoga, tai chi, walking or running to relax your mind. Also, if meditating is disturbing, upsetting, or disquieting to you then give up meditating and do not do it any longer. Finally, meditation is not for solving serious emotional or psychiatric problems; so if you have such problems do not meditate and instead get professional help.

_______________________________________________________